How Ecodrive Empowers eCommerce Brands to Drive Sustainable Change
April 11, 2023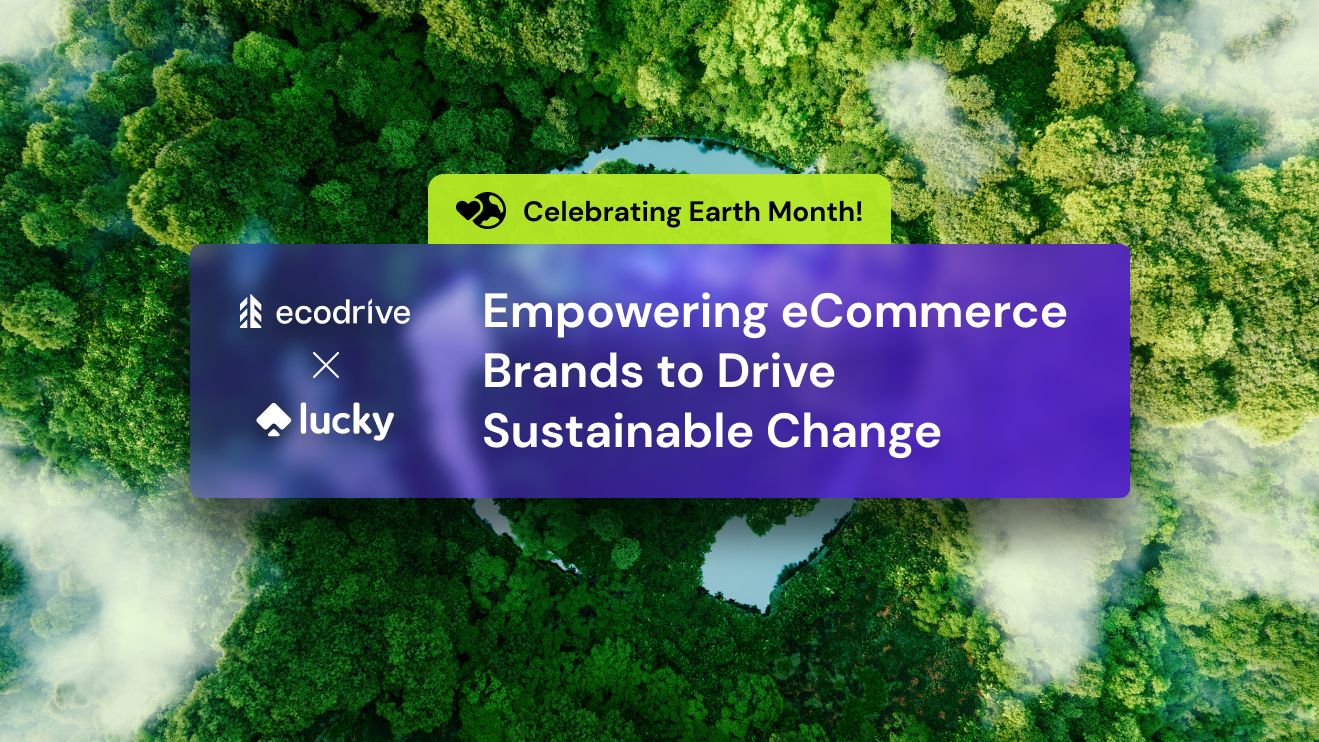 ---
This post is apart of a series celebrating Earth Month. Lucky's goals are bigger than just helping you find product when you need it – we also believe in sustainability at our core by leveraging local inventory to provide the most efficient options for purchase.
---
In today's world, consumers are more environmentally conscious than ever before, and they expect the brands they support to share their values. As a result, e-commerce brands are under increasing pressure to demonstrate their commitment to sustainability. That's where Ecodrive and Lucky come in. Our own Sneh Parmar, CEO and Co-Founder of Lucky, sat down with Trevor Laudate, Co-Founder of Ecodrive, to discuss how his company is helping brands improve their environmental commitments, and how brands can utilize both Lucky and Ecodrive to drive positive environmental outcomes.
Positive Environmental Impact
Ecodrive is a technology company that empowers e-commerce brands to make a positive impact on the environment by planting trees for every online purchase. The idea is simple: by partnering with Ecodrive, businesses can offset their carbon emissions and build a sustainable brand that their customers can be proud to support.

"It allows you to essentially launch this without needing to build out a full sustainability page because it's already done for you. It provides a really good experience for our businesses and allows them to get started sooner rather than later with climate action." - Trevor Laudate, Ecodrive
Lucky, on the other hand, focuses on providing real-time inventory information, encouraging customers to opt for in-store pickups or local shipping. This capability reduces the need for long-distance shipping, which contributes to lower carbon emissions and less packaging waste. By integrating Lucky's platform alongside Ecodrive, e-commerce brands can offer a comprehensive and sustainable shopping experience.

But, Ecodrive is more than just a tree-planting platform. It's a full-fledged technology solution that seamlessly integrates with e-commerce platforms like Shopify and provides a suite of marketing tools to help brands promote their sustainability initiatives.

When a customer makes a purchase from an Ecodrive partner, they receive follow-up emails tracking the progress of the tree that was planted on their behalf. This creates a powerful engagement tool that helps e-commerce brands build trust and loyalty with their customers. And with a public dashboard that updates in real-time, customers can see the impact of their purchases and share their brand's sustainability story on social media.

Complete Transparency and Accountability
But what really sets Ecodrive apart is its commitment to transparency and accountability. Unlike other tree-planting initiatives that rely on donations to third-party NGOs, Ecodrive overlays verification technology on top of their trusted NGO partners doing the work on the ground to amplify their efforts. This ensures that every tree planted is actually making a difference in the fight against climate change.

Ecodrive's commitment to transparency and accountability is what sets it apart. Through a partnership, Ecodrive verifies that every tree planted has a timestamp and geo-coordinate, providing customers with real-time updates on the growth of their trees. And in the next six months, Ecodrive plans to launch a platform that allows individual customers to track their exact tree over time.

With Lucky, brands can offer another option to support sustainability as well. Customers can reduce shipping emissions by having their online order shipped from their closest local retailer. By showing real-time inventory availability for retail locations, customers can also strategically plan their shopping to reduce overall emissions and packaging waste. Our commitment to sustainability means giving more information to customers, so they can make informed shopping decisions that benefit themselves, businesses, and the planet.

Win-Wins For Everyone
Ecodrive's and Lucky's impact goes beyond just the environment. By incentivizing customers and employees to participate in sustainability initiatives, Ecodrive and Lucky both create a sense of community and shared purpose. And for e-commerce brands, partnering with Ecodrive and Lucky is a win-win. By demonstrating their commitment to sustainability, brands can differentiate themselves from the competition and build customer loyalty.

"It's a win for the customer. It's a win for the retailer. It's a win for the brand that's actually selling into the retailer, and then it's a win for the planet." - Trevor Laudate, Ecodrive
Ecodrive has already partnered with over 300 businesses across a variety of industries, from e-commerce to retail to events. And with an average conversion lift of 17% from cart to checkout, it's clear that customers are responding positively to the sustainability message. From beauty brands to food and beverage to retailers, Ecodrive's solution is scalable and customizable to fit the needs of any e-commerce business.

Combining with Lucky, brands can also show retail purchase options for their goods, further lowering carbon footprint. Customers can reduce shipping emissions by purchasing their online order from their closest local retailer.

As we look to the future, it's clear that e-commerce brands have an important role to play in driving sustainable change. With Ecodrive and Lucky, they can make a real impact on the environment while building a brand that customers can be proud to support.

Ready to
scale your retail and eCommerce sales

using Lucky's data?
Boost retail sales
Optimize marketing
Capture retail attribution
Book demo